WholyFit Multi-Level DVD

WholyFit Gentle Body Power DVD,  demonstrated in 3 levels!
Brisk and powerful.
– $5 US Shipping and Handling (up to 3 DVDs)
– $7.50 US Shipping and Handling (4-7 DVDs)
WholyFit Multi-Level: Armor Workout, based on Ephesians 6.
The first time through the sequence, layer 1 is demonstrated. In the following repetitions of the sequence, the more advanced layers are shown. Use posture cards to stay in the layer 1 modifications of each exercise. Posture cards are also available in our store.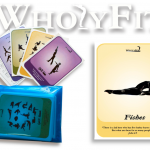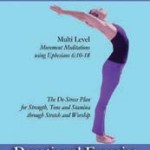 Posture Cards + Multi-level DVD
$89.98
– $5 US Shipping and Handling
This WholyFit Multi-level workout is athletic, brisk and powerful. Using the Posture Cards, you can modify the workout down to a Layer 1 level. In just 45 minutes you can arm yourself with the spiritual weapons of warfare as you put on the armor of God piece by piece:  Belt of Truth, Breastplate of Righteousness, Peace Shoes, Shield of Faith and the Helmet of Salvation.
WholyFit Posture Cards are highly recommended for use with this video. Posture cards are pictured in the upper right hand corner throughout the video so that the Layer 1 version of the exercise is always demonstrated. Layer 1 is only demonstrated at the beginning, then the workout progresses but when an advanced pose is demonstrated, the Layer 1 picture is always visible so that the exercise can be modified back to it's basic foundation.  Posture cards are recommended because the Multi-level DVD is a power workout – an intense exercise session. The posture cards make it easy to modify each exercise to fit YOUR body.
Format
Cycle 1 Warmup contains powerful Shield sequences similar to Army Basic Training Drills ("Up Downs") designed to the tone arms and core of Christian warriors.  "He trains my arms for battle that I may bend a bow of bronze."  The warmup is designed to elevate heartrate and breathing in a brisk, non-impact, tai-chi-like flow.
Next, develop your boldness and trust in the Lord's promises by holding postures like "Overcomer" in the Standing cycle designed to encourage boldness through trust in the promises of God. Overcomer, a modified karate front stance, is just one of the standing postures that will tone thighs and gluteals.
Plant your feet on the solid rock of Christ Jesus using the 4 balance postures shown next so that you will not be moved by stressful circumstances.  Let your roots go down deep! Suggestion: Just choose one if you like and practice a different balance every time.
Next, the Matwork Cycle stretches, tones and develops deep flexibility at the same time!  The "Boats and Fishes" sequence tones core and reminds us to offer our 'loaves and fishes' to the Lord and watch what He can do with them!  WholyFit's branded training secrets, like M.A.T.(Musculo-neural activation techniques) are working to increase your flexibility and strength five times faster than conventional exercise!
Finally, the last 5 minutes is Restoration, a reward for all your hard work.  You are now armed and dangerous!
Who is it for?
Cardio and strength emphasis – you can choose the easier levels of the exercises but this one is really intense and sweaty. You will breathe hard. You will be going up and down from the floor a lot (in movements similar Boot Camp Burpees). It is geared toward spiritual warfare, building courage and boldness.
Lots of arm work and fast technical cueing is designed to develop a high level of proficiency. You will sweat. Beginners are advised to do 10 minutes at a time and build up gradually. Choose the layer 1 modifications of each exercise. (You will have to learn and remember them because the workout moves quickly on to more advanced layering.) You can do this!
WholyFit: Fitness for the Whole You!

Performers: WholyFit Founder Laura Monica and WholyFit Mentor Instructor Trainer Leah Nelson demonstrate the Ephesians 6 routine in 3 levels from beginner to expert.
Testimonials
Jamie
Personal Trainer

As a personal trainer, it is nice to give clients the option to do workouts on their own. I have personally participated exercising using the Wholyfit DVD. This mind, body, and spirit workout is far more than I could have expected. It is great to know that there is a safe way for Christians to get this type of exercise. The instruction is clear and beautiful; using scripture to guide us through the spiritual journey of fitness for Christ. Please Make More!
J. Theis

After experiencing the physical benefits of power yoga via fitness videos, I felt confident to take an actual yoga class locally. I realized very quickly, however, that I was compromising my faith. At the end of each class, we were asked to "float our consciousness" above our bodies. After several weeks of just praying over myself during this part of the class, I realized I was treading in scary territory. That is when I begun my search for an alternative program with similar physical results. And thank God He lead me to WholyFit! This DVD is incredible, with steps to take you from beginner to advanced safely, while incorporating scripture and worship. Beautiful music, peaceful setting, "real" people. It is professional and sincere. I recommend this to anyone looking for ways to strengthen their bodies in safe way, physically and spiritually.
Vanessa Chesney

I have recently decided to dedicate myself to God with prayer, fasting, and worship. This DVD helped me to get in touch with myself and cleanse my mind for prayer. A couple of members in our church use this DVD and we recently paired up to take some what of classes together. Great dvd to cleanse the mind body and spirit. It truly is a christian alternative to yoga.
M. Bartholomew
I am an asthmatic with hypothyroidism, reflux, and other health issues. This exercise DVD is a great blessing to me. As a former dancer, it feels incredible to be doing "body work" again. I was on an activity restriction due to serious health issues all summer, but because these exercises are not aerobic, I am able to do the tape! I started out slowly but can't believe how quickly I've picked up steam. That 40 minutes each day is a time-out period when I can't stress out about the difficulties of life. It has become a mini-retreat time. If I don't take that quiet time first thing, the day just doesn't go as well. I've started going to a chiropractor/physical therapist, and the work she is doing and the supportive efforts I'm contributing through the exercise is making a world of difference in how I feel. The Lord knew the deep healing I needed would come through prayer as well as the physical dimension….the very moves, the gentle pace, the reflective spirit of the tape are just what I need. Thank you, Lord, and thank you, Laura Monica. I've been telling all my friends to check out Wholyfit.