WholyFit SlowFlo DVD
Filmed in Costa Rica!
$19.99
– $5 US shipping and handling (up to 3 DVDs)
– $7.50 US shipping and handling (4-7 DVDs)

WholyFit SlowFlo Alternative to Tai Chi DVD – 10, 15, 20 min. workouts included!
To buy as streaming download click here.
Kick stress and get in shape with SlowFlo! This first ever Christian Alternative to Tai Chi was developed by Chun Kuk Do karate black belt Laura Monica, Christian fitness expert certified by the American College of Sports Medicine.


Inspired by the Yang Long Series of TaiChi, SlowFlo combines martial-arts-type stances with graceful hand movements that "speak" praise and worship in American Sign Language. Brought to you by WholyFit Devotional Exercise, SlowFlo gets rid of stress and edifies your spirit with exercises like, "Move Mountains," "Carry us on Your Wings," "Jesus, Light of the World," "Tread on Snakes" and "He Rules."
The beautiful movements accompanied by original music are not only pleasant to do, but also amazingly effective for health and fitness for anyone-  from beginners just getting into shape, to elite athletes. SlowFlo is a powerful cross-training activity for flexibility, oxygenation, joint mobility and proper body mechanics. Use SlowFlo for mental preparation of competitive athletes, or for encountering the battles of everyday life. Think of SlowFlo as your spiritual martial arts!
Who is it for?
SlowFlo is for everyone! It is especially helpful for arthritis and asthma patients. Part 1 is a 10-minute short form introducing the basic moves. Part 2 is 15 minutes, and Part 3 is the complete 20-minute long form, containing the full program.  The detailed SlowFlo pictorial training guide comes with the DVD by email download.  Live training is available from Laura in live seminars. Subscribe to WholyFit TV to stay up to date on events.
SlowFlo is extra, extra gentle for days when you are struggling with low energy or controlled medical problems and have been cleared by your doctor to exercise. You can even practice this DVD from a chair, and should do so especially if you are not sure of your balance.
Performers: Laura Monica, founder, ACSM certified fitness professional, Black Belt Chun Kuk Do; Oliver Haedener and Connie Haedener, WholyFit Certified Mentor Instructors.
Below are links for self-practice helps, and afterwards are links from government and medical sources documenting the benefits of tai-chi-types of exercise. Tell your doctor of the existence of this alternative to tai chi for Christian patients. Why not give your medical care professional a SlowFlo DVD?
Technique help #1 for practicing the SlowFlo Christian Alternative to Tai Chi DVD.
Technique help #2 – video offered by Fitness Pros for Christ founder, Black Belt Laura Monica, to help you practice the SlowFlo DVD by WholyFit available at www.wholyfit.org or amazon.com.
SlowFlo Christian Alternative to Tai Chi DVD contains a short form (Part 1), a medium form (Part 2) and a long form (part 3). The full DVD presents a technique version with cueing or an inspirational version with only music and praise.
https://www.ncbi.nlm.nih.gov/pubmed/18487892
https://www.nursingtimes.net/nursing-practice/clinical-specialisms/older-people/tai-chi-prevents-falls-in-the-elderly/5024285.article
Testimonials
Jason Adam Richards

I bought this DVD for my boys. I wanted to add it as an alternative to yoga for them. They don't have the longest attention span and need to have things mixed up a bit to keep it interesting. We have non-hearing family members so I love that they are learning more ASL.
JTU

Great experience, great DVD. When I contacted the company by email with a question, they were very quick to respond and helpful. Pleased!!
Laura Monica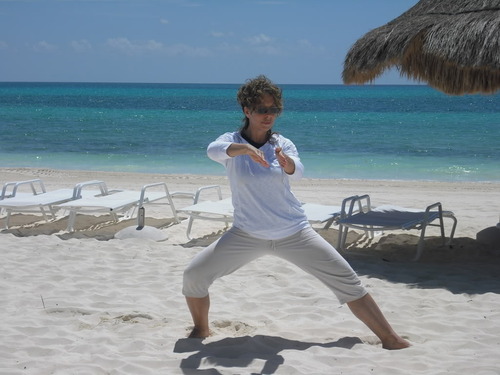 I went out to run today and after the first couple of steps, I went back inside. My hips hurt so much that I could not extend my strides without pain.  In my youth I suffered from rheumatoid arthritis, which was dramatically healed through prayer and proper exercise. But now, as I've gotten older I am experiencing osteo- arthritis, a natural process of aging. I was disappointed and sad not to be able to run, but then I remembered: I can do SloFlow today on the beach!

As an arthritis sufferer, and a Christian, I stay in shape through appropriate exercise for my age and special needs. My go-to's are WholyFit's Gentle Body Power (Christian alternative to yoga) and SloFlow (the Christian alternative to tai chi).

All Christians need and deserve to have alternatives! My mother's medical group recommended tai chi to her for the benefit of balance. Doctors are often unaware that tai chi practice includes philosophies that lead people away from the Biblical truth of the Word of God. This is why I invented SloFlow: so that people like my mother, and other seniors – including me! -would have a Christian alternative to tai chi that:

Improves balance,
Encourages oxygenation of the joints
Improves blood flow to carry away lactic acid and other waste chemicals that accumulate due to injury and arthritis.

God's healing power is great, and I fully depend on Him for healing. At some point, we will all succumb to the physiological processes of aging – no doubt about it. It's sad that older persons may become highly susceptible to the philosophies of tai chi simply by being obedient to their doctors and taking tai chi classes. The senior years are the worst possible time in our lives to be lead astray into false doctrines! Instead, we need to be embracing the truth and comfort of God's Word! The American Sign Language in SlowFlo affirms that "Jesus is Mighty to Save" and that the "Father Carries us on His Wings!"

SloFlow is a great way to maintain joint health into our older years. It's also a way to worship God in spirit and truth. Doctors say that tai-chi-like exercise is medically proven and trustworthy — but the philosophies behind tai chi are not. The Biblical truths expressed as you worship God through SloFlow are trustworthy – because they are God's own words recorded in the Bible.
Live Wholly, Wholy, and Holy!
Laura Monica