Fitness Anywhere
"I have taught exercise with Scripture and without Scripture, in large and small health clubs, schools, churches, recreation centers, dance studios, karate studios, in my home, in other people's homes, on the beach, at the park, in the forest, you name it! I've even taught it in the pool.
"WholyFit is best with Scripture, but in Health Clubs you can teach our systems based on their merit as popular fitness classes.  In my experience being employed by many health clubs across the country, including 24 HR Fitness and YMCA, people love them! "

– Laura Monica, WholyFit Founder
Get certified by WholyFit  to equip you for professional personal training and fitness leadership from a Biblical worldview.
WholyFit Certification and Training School 
is a professional fitness certification training that combines the fundamentals of fitness theory, teaching methodology, and exercise safety and technique. You will also receive specialized instruction in the WholyFit core fitness program called Gentle Body POWER.
You can use Gentle Body POWER in it's Devotional Exercise form which is great for churches. Gentle Body POWER professional 
core strength
, stability and 
flexibility
 program will bring more members to your  health clubs/gyms, private studios and secular venues too.
WholyFit Gentle Body POWER system contains every component of fitness, is low-impact and easily accessible for every body.
Strength
Flexibility
Stability
Stamina
Cardio*
WholyFit Gentle Body POWER is a total body workout for the whole you! The system is multi-level and self-paced and can be gentle or intensely athletic, depending on the certified WholyFit Trainer and the goals of the fitness client. *Cardio-respiratory development happens any time your heart and lungs work at an elevated pace. The intense practice of the WholyFit system is highly beneficial for developing cardio-respiratory fitness.
Helping people be fit is a valuable service to them.  Use WholyFit core conditioning Christian stretching program for Group Exercise classes and personal training anywhere. It's a highly effective stretch and strength fitness system in any venue.Teach WholyFit Devotional Exercise in church. In a Christian setting, you can add the Scripture memorization and it becomes Devotional Exercise. Teach Gentle Body POWER with or without the Scripture option in health clubs, gyms, YMCA, etc… Both Gentle Body POWER and WholyFit Devotional Exercise is a great system to help people with their fitness – body & soul!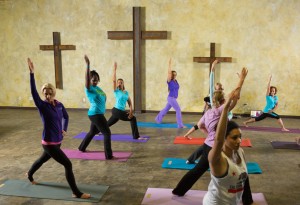 Is your passion to reach people where they live by presenting exercise as a nurturing benefit?  Some churches have the facilities available to welcome you to teach WholyFit fitness programs. Whether you train people in the a recreation center, school, health club or church, use your time, talents and passions to serve your community and build relationships.
In the church environment community groups are ideal settings for WholyFit exercise fellowships.  Small group exercise classes are great for retreats, Bible studies and care groups. Hold a small group or one on one personal training class from your home. Be a Fitness Professional as a business or ministry whether you choose to charge for your classes are not. A fun idea in lieu of charging is for participants to offer donations to the church or to an adopted charity.
Fitness is Business
As a Gentle Body Power Health Fitness Consultant, personal trainer or group exercise instructor you can work doing what you love and make friends at the same time – what could be better than that? WholyFit is a professional, high quality certification. WholyFit instructors have used their certifications to get jobs as personal trainers and group exercise instructors and have offered WholyFit  and GBP classes at health clubs, YMCA, schools, rec centers, cruise ships, retreat centers, hospitals, churches, retreats, etc…  

Conclusion
Whether you get paid or not, helping people with their fitness goals contributes to the eternal and to the Kingdom of God. Excellent, caring fitness pros who develop supportive relationships with their clients are better at what they do. When service comes from the heart, through your talents and lead by the Holy Spirit, your work becomes your calling and mission! Fitness leads to health and extends lives. Exercise is God's good medicine. Bring healing and wholeness to others!