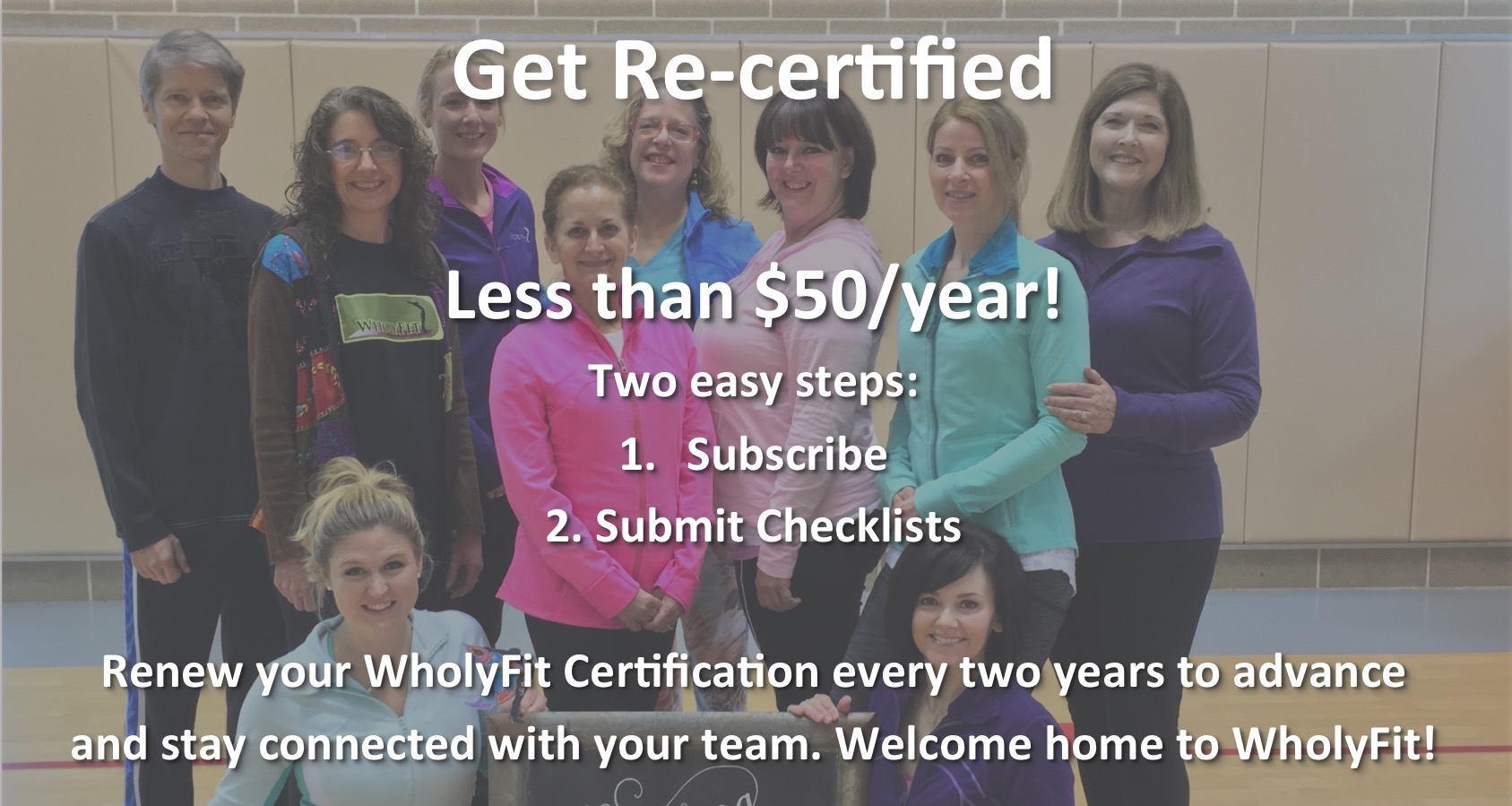 1. Subscribe to Fitness Pros for Christ Membership
$99.00 every 2 years from your Silver Start Up Date.
2. Submit Checklist Forms and Progress up the WholyFit Certification Ladder:
First Timers:
Go to the Continuing Education page and scroll down to the checklists at the bottom
the first time you re-certify, you will choose Gold Re-certification.
Click that checklist and it tells you what CECs to finish and where to find them
To Get the Advanced WholyFit Certifications:
Click on the Re-certification Checklist for the certification you want (ladder pictured below). This the forms you need to submit for each certification.
Within the re-certification checklist you select, you will see what CECs you need to finish to reach that WholyFit certification level.



Fast Track and re-certify early! See #7 below.
---
Dear WholyFit Instructors,
Thank you for staying certified through subscription to re-certification. One of our five values in WholyFit is professionalism. Continuing education is the industry standard for all certifications. Being certified implies that the professional receives ongoing training and development. You will love learning new skills through re-certification, including new routines and fusion classes, as well as staying up to date on new research in the fitness industry, special populations information, etc. We are continually adding more training and educational materials on this site. WholyFit is known for its professionalism – it makes us who we are. Thanks for maintaining the professionalism of your WholyFit certification!
-Laura Monica
WholyFit Founder, Executive Director
Health Fitness Specialist, American College of Sports Medicine
P.S. Some videos in the CEC collection are free to you, and to the public, too.
---
Q & A
1. When should I renew?
Every two years before your anniversary date.
Your WholyFit Anniversary Date = Silver Start-Up Date.
Silver Start-Up Date = Day 1 of your Silver Certification Training group – no matter when you actually signed up. This is your WF Anniversary Date.
See #7 below for information about Fast Tracking before your anniversary date.
Lapsed advanced certifications automatically bring your certification level back to Gold.
Click the link above to renew by subscribing to Fitness Pros for Christ.
2. What happens if I don't Re-Certify in time?
To keep you on top of current industry standards, stay certified. If you do not renew your WholyFit certification within your 2 year cycle, your certification lapses and you no longer retain membership.  Therefore, you will go back down the ladder to the Gold Certification level.
To re-instate your certification click here.
3. What if I never finished my Gold Training?
To re-instate your lapsed Silver certification go to Silver Refresher:



4. What if I didn't finish my Silver Certification?
 If you didn't finish your Silver Certification go to Silver Refresher:


5. What will I get from WholyFit Continuing Education?
WholyFit CEC's offer exciting new workouts, fusion classes, and more, including:
Practice videos
Select Populations training
Advanced Postures training
New GBP routines (heirloom re-cert routines are sent out 2 per year, in June and December.)
Pre-natal and post-natal training
Group support with Fitness Pros for Christ membership
Advertisement for your services on WholyFitclass.com
Ongoing training and contact hours
6. Does WholyFit keep track of your work?
WholyFit keeps track of whether or not you are current or lapsed, and what certification level you have. WholyFit does not keep records beyond your deadline for re-certification. We issue the next certificate based on the checklist you submit. We do not double-check your work and do not grade tests, as they are learning tools. Test keys are given in the re-certification materials. WholyFit does reserve the right to do random or intentional audits, so be sure to keep copies so you document your achievements if you end up being audited.
~ We use the honor system ~
7. Can I Fast Track to Advanced WholyFit Certifications?
Yes! You can re-certify ahead of your next due date, by paying your re-certification fee of $99 for Fitness Pros for Christ membership. Your Anniversary Date will stay the same. Just click on the checklist of the desired certification and complete the requirements early!
You may purchase extra routines in order to qualify for the certification level you want. WholyFit distributes a limit of 2 free re-certification routines per year per Fitness Pros.
You can apply for multiple certifications at once, by submitting checklists for each one. However, you may not use the same contact hours, fusion course, routines, or training to qualify for more than one certification.
Gold Re-certification:  You may need to Fast Track anytime before the two-year anniversary of your Silver Start-up date to be able to register for the current Online Class with Laura and also be able to purchase the current Heirloom routine out of order that she is teaching online or in order to purchase any of the Fusion Programs.
8. What are my Fitness Pros for Christ benefits?
For information on Fitness Pros for Christ benefits, click on wholyfitclass.com (be sure to log in to Wholyfitclass.com before clicking on the link).



---
Certification requirements are subject to change at any time without notice. Stay in touch.