Stress Management 5
Soul Sisters Health Fitness Challenge 2014
Laura Monica, Executive director of WholyFit and Dr. Rita Hancock MD, Pain Management Specialist Physician
Stress Management Video 5
Week 5: Hamstring Health

SEE THE WHOLYFIT CHANNEL ON YOUTUBE
CLICK HERE to see more stress management videos on the YouTube WholyFit Channel
1. How can stress cause injuries?
I injured my hamstring because of stress and being hurried while trying a new exercise on my own that I probably should not have tried in retrospect. I think I pushed myself too far out of a lapse in judgment due to stress.
The fitness world is so competitive and I try to stay away from that. I do admit that it is a struggle for me, and perhaps other exercisers and fitness instructors, to resist the temptation to push ourselves too hard to be "good enough." I know I sometimes "spaz out" when I think I'm going to be judged by others. We fear their judgment so we tend sometimes to over-do it to "prove" ourselves….to be "good enough."  It's a good thing God accepts us as we are so we don't have to prove ourselves to Him.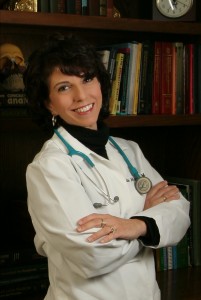 Dr. Rita's Answer:
As far as the hamstrings go….they're certainly a muscle that does get tight in many patients who sit for long periods of time or in patients with back issues. I also see A LOT of stress-induced tension in the upper traps, levator scapulas, and rhomboids. But each patient is different, so I suppose wherever your weak spot is, that's where your stress will manifest. Maybe in your case, it's the hamstrings.
As for the remedy for these problems, I believe God's truth and grace set  you free from other people's judgment…and the physical consequences that result. As you have already done, quote Scripture (i.e. Truth) rather than listen to anyone who is critical, even your own thoughts. "For it is by grace you have been saved, through faith- and this not from yourselves, it is the gift of God- not by works, so that no one can boast. For we are God's workmanship, created in Christ Jesus to do good works, which God prepared in advance for us to do" (Ephesians 2:8-10).
Stress management through healthy exercise like WholyFit is a great way to keep in that place of rest. It helps you to receive his love in whatever state of imperfection you happen to be in, from beginner to advanced. You don't have to look perfect, skinny, young, and fit for God. You just have to have a heart for Him. And when your heart is right, it helps you to exercise for the right reasons: not to "prove yourself worthy," but to take proper care of the temple simply because you love God and He loves you!
Rita M. Hancock, MD is a Pain Management Specialist Physician, Blogger, and Author of Christian Health and Wellness Books
www.RadicalWell-being.com
www.TheEdenDiet.com
www.RitaHancock.com
Dr. Rita's Radical Well-being book:
https://www.facebook.com/groups/RadicalWellBeing/