WholyFit Inspirations #1
WholyFit Inspirations #1
-by Chelsea Rounds
Gold Certified WholyFit Instructor
"Introduction"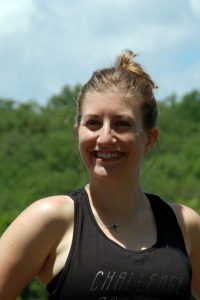 Hello my brothers and sisters in Christ!
Each of us have gifts that we've received from our Lord and this is one of mine – writing. I've always loved being able to express myself and I find it so fulfilling to be able to worship through my writing. I hope that you'll join me on this journey of continuing the WholyFit Blog and give me comments and feedback on how we can make this blog even better.
But first, I want to introduce you to me and tell you about how God has saved my life through WholyFit.
My name is Chelsea Rounds. I grew up in a suburb of Philadelphia, Pennsylvania and I still live pretty close to my childhood home. God's blessed me with parents who raised me in the Presbyterian church and my faith has only grown as I have gotten older. I fell in love with a boy named Keith in Sunday School when we were in 10th grade and we've been together ever since. We celebrated our sixth wedding anniversary in March 2018 and welcomed our first child, a daughter, on the same day. Her name is Natalee Brianna Rounds.
God brought WholyFit into my life at the perfect moment. As the wife of a contemporary worship leader, I had watched my husband have his ministry and never really knew where I fit in. Sure, carrying guitars is important but it's not using my gifts to bring the Lord's word into our world. One day in 2016 while at a large church, my husband rehearsed for the service and I noticed an advertisement for WholyFit. I didn't know much – just that it was a Bible study in motion and the photograph on it looked like yoga. I thought this is PERFECT. Fitness has always been an interest to me.
So I grabbed my Bible and traction mat and drove back to the church the following Wednesday night. This alone is a huge accomplishment for me. I am not one to step outside of my comfort zone and certainly never like being alone in a new environment. But I met Julia Faia, WholyFit Instructor, and immediately felt the warmth and love of God through her. I thought to myself as I was in that first class that I could become an instructor.
My mother expressed an interest after the first class I went to and I took her with me to the second class. She also felt instantly drawn to Julia and the program. We both enjoyed the way it made us feel – relaxed, peaceful and free.
So then came time to approach my husband with my desire to become a certified instructor. He thought about it for a moment and reminded me that I don't like people looking at my body and I have always considered myself to be a follower and not a leader. After those things, he said okay. If I felt God's call, go for it.
And so began a transformation that has literally changed every facet of my life.
I look forward to sharing my experiences, scriptures and prayers with you,
Chelsea