Get in Fighting Shape! Fight for God's Truth in Your Life!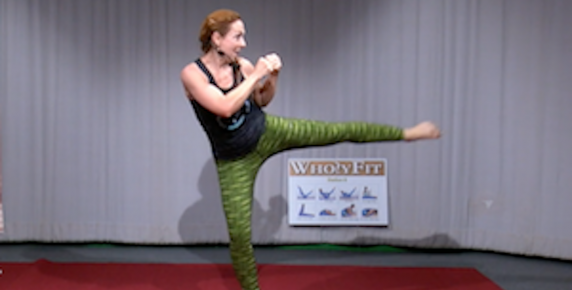 FREE WHOLYFIT K700 WORKOUTS!
Usually Sundays 10:30am


SCHEDULE- WHOLYFIT K700 KICKBOXING ON CAPS VENTURA PUBLIC TV


---
---
---
Subscribe to our Newsletter for ongoing information by texting WHOLYFIT4ME to 22828.
Hi! Our WholyFit Film Crew and I (Laura Monica) are so pleased to be able to offer you free workout videos that are not just exercise, but also contain devotional thoughts, scripture and AWESOME ORIGINAL CHRISTIAN MUSIC by Ryan Axtell, local worship leader here in Ventura, CA. This FREE programming is also available to anyone nationwide! Just use your computer to workout to WholyFit K700 videos daily for FREE! Workouts are live-streamed. See schedule below. The first video will play every weekday for one month then a new video will come on the next month.
As a United Fighting Arts Federation Black Belt, I engineered K700 to be the FIRST EVER Kickboxing to music that is actually CORRECT IN FORM so that you can learn true martial arts and self defense.* Much of the kickboxing I have witnessed at health clubs does not teach any martial arts form at all, which is understandable, because martial arts is highly technical and a very difficult art to master. Exercise instructors do not normally have the time to learn both group exercise and to master martial arts. I am both a group exercise instructor AND a martial artist and I HAVE FAITH IN YOU!  I know that if I teach it step by step, in a progressive way, you will be able to do it! Besides, I think that if you're going to spend a lot of time doing something WHY NOT LEARN IT CORRECTLY? Most kickboxing classes spend all that time doing martial arts moves incorrectly. Although I understand that other kickboxing classes clearly state that they are only inspired by martial arts and are not advertised as true to martial art form. They are what they are and they are fun, but I think it's a waste of time to do something for hours or years – incorrectly. Let's learn it right, yes? If you are going to spend the time exercising, why not learn something real?
You will learn REAL MARTIAL ARTS technique step by step including how to do the following correctly:
Jab
Reverse Punch
Snap Kick
Round Kick
'Blocks
Rebounds
Upper Cuts
Hooks
Palm Heels
and much more…
…AND MOST OF ALL, you will learn how to set up each punch in a real boxing situation, how to combine punches and kicks and why and when each punch and kick is used most efficiently. Combinations are not only fun and set tup 8 count music, but ALSO true to martial arts form and technique.
TAKE A LIVE CLASS FROM A WHOLYFIT CERTIFIED INSTRUCTOR to learn proper technique and form in person. Go to wholyfitclass.com to find a teacher in your area OR get certified yourself to teach K700! To get certified you will get PERSONALIZED instruction online in real time with Laura Monica.
Another difference in K700 and other kickboxing classes is the K700 teaches biblical principles intended to give us boldness in following Christ. Our enemy is never people. That's why our aggression is focused toward fighting the real Enemy, Satan. It's a scientific fact that body position can influence our subconscious. Doing bold movements in the Name of Christ and as we meditate on Scripture is a great way to get bold in spirit! We will be fighting against the lies of the Enemy and replacing those lies with with truth from God, who is good – ALL THE TIME!
Thank you to CAPS media and our producers Denia and Cheryl, along with the whole WholyFit Film Crew for working hard to get free workouts to our community on Ventura Public TV.
In Jesus,
Laura
DIRECTIONS TO ACCESS:
Click the button above on the time and date of the broadcast listed in the schedule.
For Schedule click HERE
---
*Disclaimer: If you chose to participate in these videos, you do so at your own risk. I do not guarantee any skill outcomes because I am online, and I am not physically present. Therefore I cannot recommend that you will be able to use these techniques in real fighting situations or in self defense. It is my intention that through practicing the movements and the strategies involved in fighting, you will become bold in the spirit and become more effective in the army of Jesus Christ. Proceed at your own risk.