Powerful Exercise
Practice the BASICS of the WholyFit system, and you will gradually gain strength, flexibility, balance and ease of movement that will make the daily movements of life a breeze!
Weight loss
Muscle tone
Energy
Counteracts Depression
Strength & Flexibility
Cardiovascular System Efficiency
Muscular Balance
Posture
Coordination
Neurological Processing
Equilibrium
Sleep Better
Layer 1:
Stability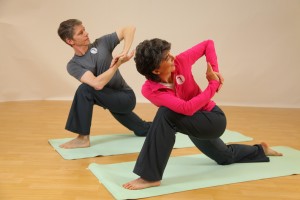 Layer 2:
Strength
Layer 3:
Flexibility
Layers 1-3 are appropriate for the general population in a group exercise or personal training environment under the supervision of a certified WholyFit Instructor. Bending, lunging and walking will become easier as you practice WholyFit basics. We work to get wrists to become virtually "sprain proof", arms strong and the core of your being will be strengthened from the inside out.
If your goal is to progress into advanced postures, practicing the basics of WholyFit will lead to easy and natural transitioning into the more advanced WholyFit layers. Everyone becomes proficient with a few of the more advanced layers. It's just a matter of time. Many of these layers are much easier than they look. It's all technique! Advanced technique is taught during continuing education in workshops called, "Gatekeepers and Workups" and they represent layers 4, 5, 6 and up.
Many experts support the claims made above, that traditional yoga is not always safe physically, especially for seniors. The expert in the video below, Dr. Cody Sipe, Clinical Exercise Physiologist and presenter for the American College of Sports Medicine, endorses WholyFit as a better option than yoga.
Do I have to be flexible to do WholyFit?
No. WholyFit is not just stretching, it's overall exercise made to train the "athlete training for life." WholyFit offers cutting edge, highly professional exercise technique. Your WholyFit instructor is certified to provide custom modifications for each exercise that will fit your body perfectly. In addition, you can make friends and study the Bible while you exercise!
Get into the best shape of your life – body, soul and spirit!