Why Get Certified in WholyFit?
All fitness professionals go through training and testing issued by the contemporary experts. WholyFit leaders are vested in maintaining the competency and consistency of the system's programming and procedures.  WholyFit Teachers become fitness professionals through certification, and as such, certification is imperative to insure the safety of biomechanics and efficiency of the WholyFit Gentle Body Power exercise system. Fitness certification is industry standard for fitness instructors and personal trainers and you'll love the process itself!
Those certified by WholyFit are the only ones authorized to use the WholyFit system and the secrets of the M.A.T. techniques (Musculo-skeletal activation technique).  WholyFit is trademarked, which means that "WholyFit," including all homonyms and spellings, is protected. This maintains purity of our core values, mission and goals. Join us!

Why can't I use my Yoga certification to teach WholyFit Gentle Body Power?
WholyFit Gentle Body Power contains WholyFit exercises, not yoga exercises. The only place to learn WholyFit M.A.T. technique is through WholyFit certification, a certification for fitness professionals.  Fitness certification is quite different from yoga certification in goals, mission and content.
To clarify: Yoga teachers do not go through fitness certification. They go through yoga certification.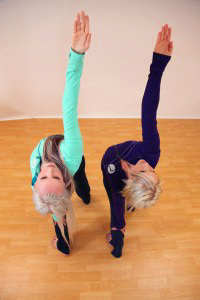 Yoga certification allots much time to yoga philosophy training which detracts from the time available to spend on essential anatomy and physiology of exercise. Yoga is not purely a fitness system. It is a philosophy and lifestyle.  WholyFit instructors are not associated with the yoga community at all, but rather, WholyFit instructors are members of the fitness community.
Why is WholyFit a better choice for mind-body certification than a Yoga Alliance registered organization?
The WholyFit organization and instructors do not register with Yoga Alliance because Yoga Alliance does not necessarily guarantee expertise in the physical exercises and requires the study and practice of a yoga lifestyle. For example, a yoga teacher can become Yoga Alliance Registered by completing a minimum hours of mantras and chanting with absolutely no training in physical exercises. WholyFit requires the study and practice of a Biblical lifestyle and certification focuses on anatomy, exercise physiology, technique and teaching methodology.
Alternative to Yoga 200 Hour Diamond Certification