Gold Certification and Retreat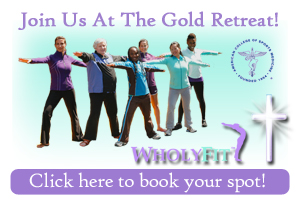 Gold Retreat offers in person, hands- on training and covers layers 2 and 3 of the Armor Workout. No prerequisite required. All welcome. No commitment to teach necessary. Come for the benefit of your own personal practice or to become certified to teach others in WholyFit.  (Silver Certification is also required for those who wish to teach WholyFit. An instructor becomes "Gold Certified" after taking both Silver and Gold trainings.)
Come join us for renewal and breakthrough in your life!

Who is Invited
Gold Retreat is offered to anyone…
…who wants to be certified to teach WholyFit or wants to learn the technique behind WholyFit practice for their own personal use from Founder Laura Monica and the WholyFit Staff.**
Certified instructors are always welcome to attend free of tuition charge and are awarded 22.5 CECs  Technique/practicum contact hours and 6 CECs Ethics contact hours.
Anyone from the general public is welcome to attend the morning workouts.
**Silver Online Certification is also required for those who want to teach WholyFit but not required before Gold Certification. A WholyFit Gold Training Certificate is presented at the end of the course at Retreat.
What to Expect
Gold certification is different every time!
Always expect hands-on breakdown of bio-mechanics, so come rested and ready for active exercise. Gold certification is always about ministry and discipleship. Come expecting renewal and breakthrough. Prayer ministry times will be offered by a team of  anointed intercessors.  Get freedom from the influence of yoga and get prepared to minister to those caught up in yoga by attending the interactive discussion group called, "Yoga Versus The Bible," presented by Oliver and Connie Haedener. It has always proven to be life-changing! Take this class again and again.
Training Sessions
Gold Retreat Sessions:
Multi-level Morning Workouts are 90 minutes and open to the public.
Workshops daily. Category 1 Technique & Safety (alignment and proper form), practicum (teaching others) as well as teaching methodology (how to cue and teach and multi-level class) are taught by Laura Monica, founder. Ethics of a Biblical Lifestyle contact hours are satisfied through spiritual leadership training at the Banquet.
Banquet Dinner Friday for fun and fellowship.
Free Time every day to enjoy the beauty of the beach and harbor, walk with prayer partners do your Devotions, or practice.
Contact Hours: All together, 22.5 hours of technique/practicum and 6 hours of Ethics of a Biblical Lifestyle content is offered. Contact hours count towards 200 hour Diamond Certification.

What to wear?  For daily seminars, wear workout clothes and layered warm-up jacket and pants. The dinners are casual dress.
Help Needed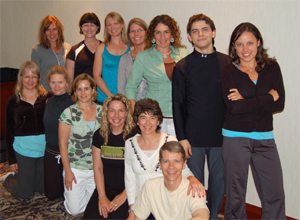 Mentor Instructors: please volunteer to help new trainees! It saves so much time for all.
Ministry: please volunteer to pray
Hospitality: please volunteer to decorate rooms, gather contact information and welcome/direct  instructors, or to prepare special meals or snacks.
Photography: please volunteer to capture this event on camera and/or video!